Edward Heath & Satanic Child Abuse
BY LMR
For more articles and sources on this site:
List of British MPs convicted of sex offences
Jimmy Savile & British Establishment's Paedophile Ring
Edward 'Ted' Heath - British Prime minister, serial Paedophile and Murderer
Jill Dando raised alarm about 'paedophile ring at BBC'
In a book published in 1998, the writer describes the experience of a woman who claimed to have been sexually abused as a child by a top UK politician…
The author goes on to describe the politician as a Satanist, paedophile and murderer, based on accounts from more than one victim…
That book was 'The Biggest Secret', the author David Icke, and the top politician was Edward 'Ted' Heath, the UK Prime Minister from 1970-1974.
On 3rd August 2015 several mainstream news outlets reported that four police forces are investigating claims of historical child sexual abuse involving former PM Sir Edward 'Ted' Heath.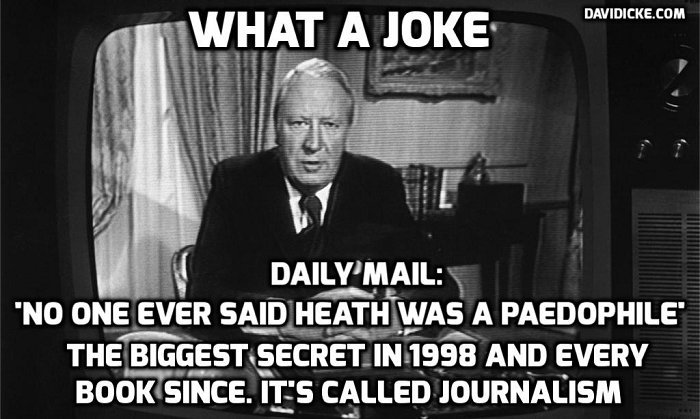 Heath was informed of what was printed in 'The Biggest Secret' prior to its publication and he did not attempt to either stop publication or to take any legal action against the author or the publisher, in fact his quoted reaction was "I hope David Icke recovers from his illness."
Heath is now being investigated as part of 'operation midland' examining claims that boys were abused by a group of powerful men at locations across southern England and in London in the 1970s and 1980s. The States of Jersey Police has also confirmed Heath forms part of its investigation into historical allegations of abuse. It says some of the allegations relate to abuse "within institutions or by people of public prominence". He is also being investigated under 'Operation Hydrant': A nationally co-ordinated exercise to collate all allegations of historical abuse involving high profile-figures.
Although no conclusions have been drawn from these investigations yet, the fact that it is being reported that four, (in some reports five) independent investigations are being carried out on Heath suggests that there is no smoke without fire. Considering it would likely take more than one case to launch a single investigation it can be reasonably assumed that there are almost certainly more than four individual claims against the former PM, probably considerably more. Although it is early days, many mainstream news outlets are now reporting cases of the alleged abuse:
http://www.mirror.co.uk/news/uk-news/sir-edward-heath-child-abuse-6188388
http://www.bbc.co.uk/news/uk-33770021
http://www.independent.co.uk/news/uk/crime/edward-heath-raped-12-yearold-boy-at-mayfair-flat-10436554.html
It is now simply a question of are they prepared to scapegoat a former PM, who is of course now dead and therefore escapes justice anyway, or will they continue to cover up the abuse such as was the case with the now dead Lord Alistair McAlpine, and is indeed the case for hundreds of politicians, such as, for example, Lord Janner, who, although still alive, will not face prosecution, despite facing credible evidence of decades of child abuse, because coincidentally he developed dementia around the time the allegations were made against him
We know already of dozens of recent/current politicians who have been convicted of various sex crimes, many against children, there is a list of names here, but that list is tame compared to what really goes on.
Although it will shock some, it comes of no surprise to me to hear these higher political figures like Heath now being named in official investigations. I say it's only a matter of time before we hear of more… You can't tell me that Thatcher wasn't aware that half of her cabinet were paedophiles? She was involved, she let it happen and she kept it quiet. Among her close aids such as Lord Brittan, (paedophile), it's also worth considering her connection to serial child abuse offender Jimmy Savile who procured children for the elite, and even claimed he spent many Christmases with Maggie -they must have been very close. But then Savile always did get on well with politicians and the Royal family, I wonder why…?
David Ickes seemingly correct allegations against Heath in 1998 about his involvement in paedophilia unfortunately were, by and large, not taken seriously as with the victims who had reported the cases previous. A prime reason for this was not just the thought of abuse at high levels of the establishment, but also at the idea that there were satanic rituals and mass child murder also taking place within the same web.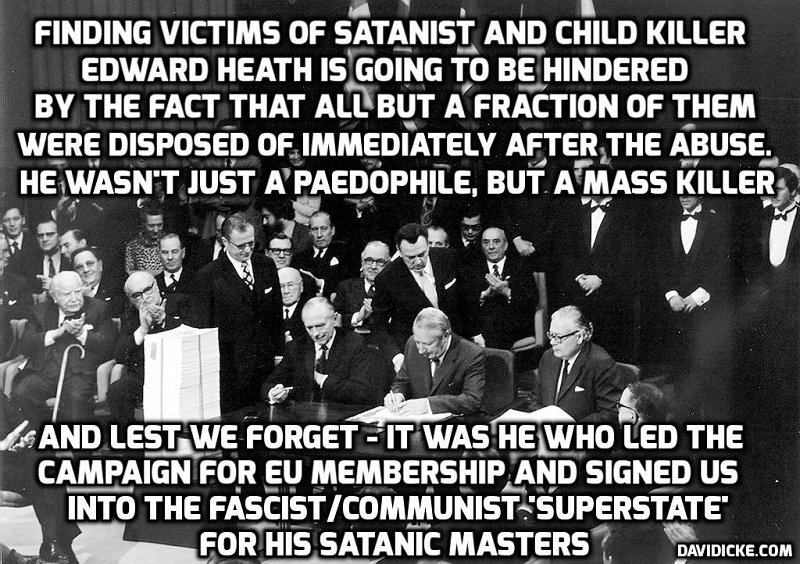 However Satanism and paedophilia are unbelievably part of the day-to-day activities of many rich and powerful people. I can conclude from my own research to date that I believe the 'satanic' element to the abuse is very much a reality that we need to come to terms with, although at first, it is certainly difficult to digest, it soon becomes difficult to deny the connections and feasibility if nothing more.
Then perhaps we should also take into account Icke's allegations against the British Royal family and their involvement in an elite paedophile ring, but he is not alone in these allegations: An ongoing common law case against Queen Elizabeth, Prince Phillip and the Vatican can be read here.

This website features another well sourced article alleging to the Royal/Political child abuse scandal which is linked here

And another well-written article on this subject here
It also shouldn't be forgotten, although it quickly is, that it was only this year (2015) that it was reported in the British Press that Prince Andrew among others participated in an international "sex slave" ring that peddled sex orgies with underage girls to the wealthy and powerful. This was on the front pages of British newspapers and the related stories kept flowing for a few weeks; one such example here.
Since the revelations of the Jimmy Savile affair came to light we've had numerous famous faces such as TV/radio personalities, musicians, politicians et cetera, exposed as paedophiles. One utterly shocking example was Ian Watkins, the lead singer of once popular band 'Lost Prophets'. The police had information about Watkins as far back as 2008 but it wasn't until 2012 that he was charged, and in 2013 Watkins admitted 13 child sex offences including the attempted rape of a baby. His two co-defendants, who are the mothers of children he abused, were jailed for 14 and 17 years. Watkins was jailed for 29 years. But this is a common theme among musicians; The Rolling Stones are paedophiles, Steven Tyler of Aerosmith is a paedophile, the Beatles manager Brian Epstein was a paedophile, the entire industry is full of them, mostly in plain sight if you care to notice.
And when isn't there a Catholic Church Child abuse scandal in the press?
Is it really that difficult to believe there is a very large, very sinister, well organised paedophile ring, that operates at least on a national level, among celebrities, Royals, politicians, and other select members of the establishment?
David Icke documents a large amount of information in his books and on his website concerning the ritual abuse of children by the satanic elite. Anyone who has spent a small amount of time studying the various different sources available, across the web and through further study will be able to see the scale of what appears to be abuse of a ritualistic nature.
Although many people are contributing to the exposure of this abuse, it is through Icke's books that my attention was first drawn to the sort of allegations being presented. Icke has been a subject of ridicule for years in the public eye, and despite the fact that his media image is unlikely to improve, it cannot be argued that he has gained a lot of support and respect for his work into conspiracy research.
Icke's 1998 book, 'The Biggest Secret' is now regarded a groundbreaking book among conspiracy theorists. Although conspiracy research can quickly become out of date, 'The Biggest Secret' still is, and will remain, essential reading for conspiracy researchers...
For more articles and sources on this site:
List of British MPs convicted of sex offences
Jimmy Savile & British Establishment's Paedophile Ring
Edward 'Ted' Heath - British Prime minister, serial Paedophile and Murderer
Jill Dando raised alarm about 'paedophile ring at BBC'
External Links
British Prime Minister Gordon Brown Named as Paedophile
Blair's Protection of Elite Paedophile Rings
Tales of orgies and murder rock France
Alleged Pedophiles at Helm of Britain's War Machine, Massive Cover-Up
Portugal's elite linked to paedophile ring
Call to lift veil of secrecy over Dunblane
Japanese government blocks a ban on child pornography
A List Of Child Sex Offenders Inside The British Government
Cardinal Brady will not resign over abuse 'cover-up'
Britain's child snatchers are a scandal
Sexual abuse scandal rocks Boy Scouts of America after $18.5m payout
Priest Rapes Teenage Boy at Gunpoint
Pope accused of failing to act on sex abuse case
Possible British elite paedophile ring
"Widespread paedophile ring" and allegations about child sex images and the senior aide of a former prime minister.