Allegations of abuse at the hands of Jimmy Savile have been linked to multiple establishments, including the BBC, NHS hospitals, mental health units, hospices, schools and children's homes. Savile was a volunteer at several hospitals and hospices where the abuse of patients was facilitated by the NHS and others.
A governmental decision that should have sparked a major investigation instead saw a flamboyant disc jockey with absolutely no relevant qualifications granted ultimate control over the Nation's highest security mental health facility and the movement of its patients. Broadmoor was home to the likes of Britain's most notorious serial killer, Peter Sutcliffe, 'The Yorkshire Ripper' – but this seemingly bizarre connection is just one of many between Savile and the 'Ripper murders'.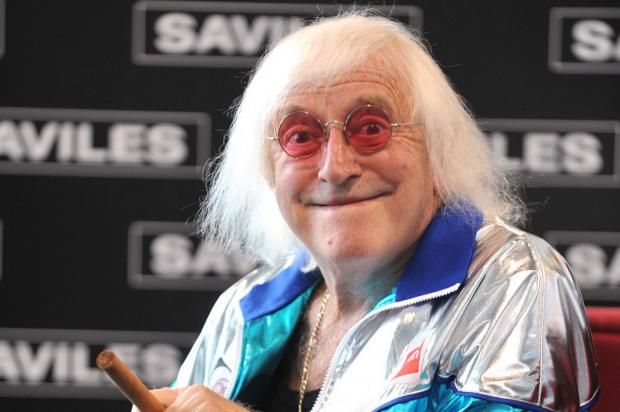 Jimmy Savile was a household name in Britain throughout the latter part of the 20th century. He was a DJ, television and radio presenter with a reputation for eccentricity and flamboyance, he was most famous for hosting shows like Top of the Pops and Jim'll Fix It, although he was also very well known for his seemingly never-ending efforts to raise money for charities – he raised an estimated £40 million during his lifetime. Savile died two days before his 85th birthday in October 2011.
However, in October 2012, ITV aired a program called 'The Other Side of Jimmy Savile' whereby allegations of widespread sexual abuse by the former disk jockey were raised.
By 19 October 2012, police were pursuing 400 lines of inquiry based on testimony from 200 witnesses via 14 police forces across the UK. In November 2012, the Metropolitan Police announced the scale of sexual allegations reported against Savile was "unprecedented" in Britain: a total of 450 alleged victims had contacted the police in the ten weeks since the investigation was launched.
The developing scandal led to inquiries into practices at the BBC and the National Health Service. It was alleged that rumours of Savile's activities had circulated at the BBC in the 1960s and 1970s, but no action had been taken.
The suspected victims included 28 children aged under 10 and 63 girls aged between 13 and 16, nearly three-quarters of his alleged victims were under 18. Some 214 criminal offences were recorded, including 34 rapes reported across 28 police forces.
In January 2013, a joint report by the NSPCC and Metropolitan Police, Giving Victims a Voice, stated that 450 people had made complaints against Savile, the period of alleged abuse stretched from 1955 to 2009 and the ages of the complainants at the times of the assaults ranged from 8 to 47.
After Savile's death in 2011, BBC's Newsnight programme began an investigation into reports of sexual abuse by Savile. The interviewees who agreed to have their stories told alleged abuse by Savile at Duncroft approved school for girls in Staines, Stoke Mandeville Hospital and the BBC itself. Newsnight also discovered that Surrey Police had investigated allegations of abuse against Savile. The item was scheduled for broadcast on Newsnight on 7 December 2011, but the BBC decided that instead of broadcasting this they would broadcast two tributes to serial child abuser Savile.
In October 2012 the BBC said it has found NO evidence that its management ignored any allegations of wrongdoing by Savile.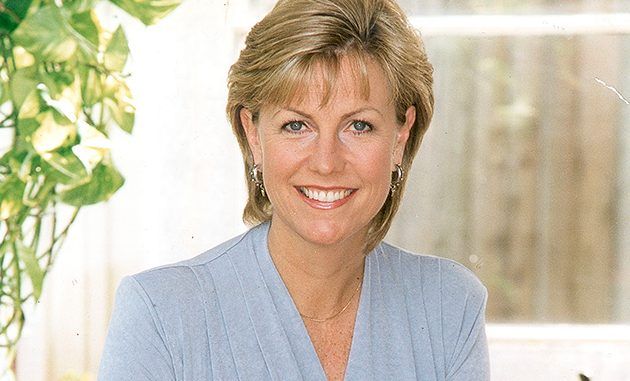 Jill Dando, a former BBC presenter, raised the alarm about Jimmy Savile's activities in the 90's. A former colleague described how Jill was quite shocked when told about images of children and that information on how to join this horrible paedophile ring was freely available.
The same friend and retired BBC worker said the late Crimewatch host was told DJs, celebrities and other staff were involved in organised abuse. But the anonymous source says "no one wanted to know" when Miss Dando raised concerns about the alleged ring and other sexual abuse claims at the BBC. She is said to have passed a file to senior management in the mid-1990s, but they never carried out an investigation.
Jill Dando, 37, was shot dead on April 26, 1999, on the doorstep of her home in west London. The crime remains officially unsolved and suspiciously stinks of another BBC cover-up. Jill Dando joined a campaign to help children spot paedophiles the year before she died. Read full article: Jill Dando Raised Alarm about BBC Paedophile Ring
When we start to examine the details behind Savile, it becomes clear he was protected from all angles for a very long time. The information that became public during and following the Savile revelations should have destroyed the BBC, the Royal Family and the British Establishment, and it should have shook the whole country from top to toe. But the flawed investigation barely required covering up, the evidence sits in plain sight, just as Savile did for all those years.
'Operation Yewtree' produced a report with the NSPCC, (patronised by Esther Rantzen and Peter Mandelson) but unless the MET investigate themselves and MI6, they will not even scratch the surface of this international paedophile ring.
Below: Paedophile facilitator Esther Rantzen with Jimmy Savile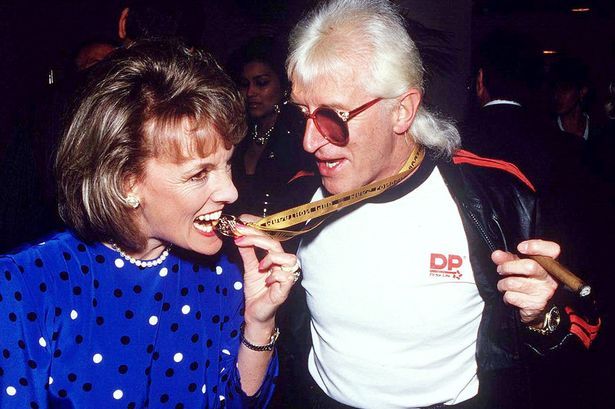 Meanwhile Dame Esther Rantzen, founder of the Children's Charity NSPCC Childline has her own shady links with paedophilia, not only did she admit to "blocking our ears to the gossip" about Savile, but she has also been personally very closely linked with several instances of child abuse. She claims she was abused as a child, and this inspired her to start the charity. But far from protecting children it seems Rantzen has been doing exactly the opposite – abusing them and putting them in vulnerable positions with other predators:
Rantzen was partnered to the late Sir Nicholas Fairburn MP who was part of a predatory paedophile ring with the late Robert Henderson QC. Separate evidence suggests that Rantzen's erstwhile partner also raped further children at the Elm Guest House 'child brothel' in Barnes, southwest London.
Rantzen's home in the New Forest ('Bloodoaks Farm') provided a venue for child sexual abuse to occur when Robert Gillings sexually assaulted a small girl in Rantzen's swimming pool. Rantzen, said not to have been home at the time, had reportedly invited the child's family to spend a holiday at her home in the New Forest. Robert Gillings was found guilty of two charges and sentenced to 18 months in prison. Perhaps the most shocking of all, former child actor, Ben Fellows, states that, as a 15-year-old child, Rantzen invited him and other children and adults to a highly sexualised party at her New Forest home. Fellows says drugs and alcohol featured heavily at that party to which numerous children (himself included) had been brought.
Sex occurred between various guests, yet Rantzen never lifted a finger to protect or remove the children from the highly inappropriate environment to which children had been brought on her invitation and initiative.
This woman set up a Children's charity… and that charity is now helping produce the report on Savile and other paedophiles? How do we think that's going to work out? It is beyond a sick joke, especially for all those victims of abuse who are using the charity to seek help and finding only more abuse on an even greater scale.
The NSPCC is not a children's charity, it is an organisation that specialises in covering up and facilitating the abuse and trafficking of children. Esther Rantzen needs to be arrested and investigated for crimes against children.
According to the Observer newspaper in an article printed 13 November 1994, current CEO of NSPCC Peter Wanless was reported to have been "adopted and groomed" by Michael Portillo MP. One year later, a journalist on a different publication alleged that Mr Portillo was, or had been, linked to a network of paedophile parliamentarians - Say no more - This investigation was never meant to expose the truth, it was meant to bury it.
Below: Paedophiles Savile and Thatcher supporting the child abuse organisation NSPCC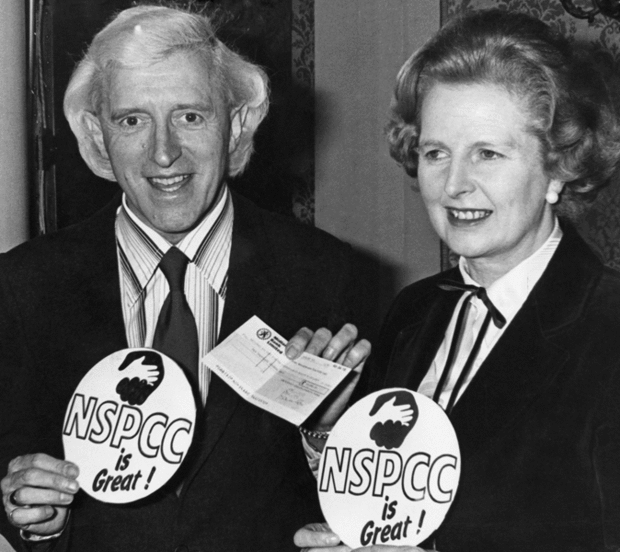 Savile and the Paedophile Politicians
Jimmy Savile was at the centre of a paedophile ring that procured children for well-known figures in the British Establishment, including Royal family members and politicians, even prime ministers. Although Ted Heath was exposed as a paedophile and murderer by researchers such as David Icke as far back as the 1990s, most ignored the accusations and had a good laugh at the idea while the police, media, politicians and of course the BBC have all knowingly covered it up.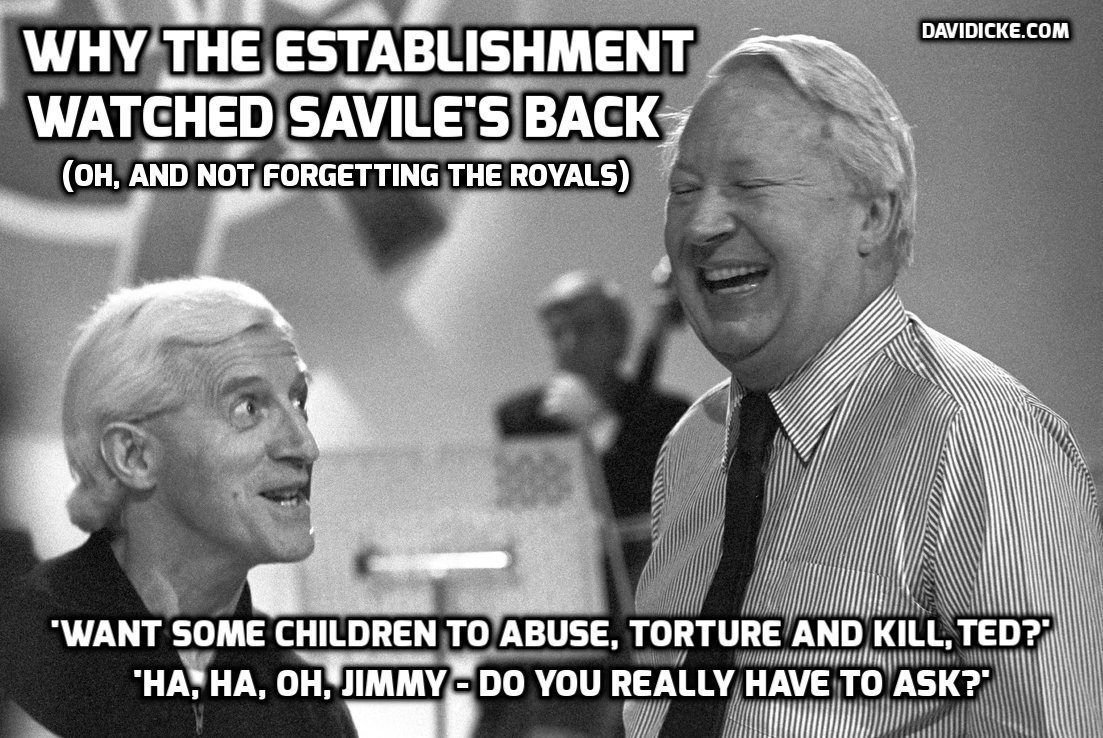 Edward Heath, the former prime minister from 1970-74, was known to visit the Jersey care home Haute de la Garenne to take young boys on boating weekends on his yacht called 'Morning Cloud', or as his bodyguards referred to it, 'Morning Sickness'.
The person bringing children for him to abuse was Sir Jimmy Savile. He was seen by the witness/victim, taking young boys onboard Heaths yacht cloud when they were at a party conference. Allegedly Savile was supplying several high-profile MPs with children for them to sexually abuse.
Savile sued the Sun newspaper in 2008 over a series of articles linking him to the Jersey children's home, and because of the articles Savile took out an injunction on the newspaper. Further articles followed claiming Savile was unwilling to cooperate with the police investigation, and another claiming he had admitted that he had visited the home. At first, he denied visiting Haut de la Garenne, where widespread abuse had taken place and human remains were discovered, but later he admitted he had done so following the publication of a photograph showing him at the home surrounded by children. Savile was criticised for being unprepared to 'fix-it' for the victims, however, the Crown Prosecution Service advised that there was insufficient evidence to take any further action, and no charges were ever brought.
Below: Savile photographed at the Haut de la Garenne Childrens home which he denied visiting.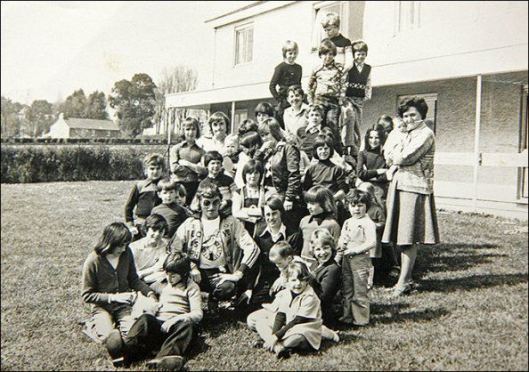 Former Army Press officer Colin Wallace, who was based in Belfast, has long insisted that the authorities knew boys were being systematically sodomised at the home six years before they decided to act. Former Deputy Chief Officer Lenny Harper, the senior police officer in the Haut de la Garenne abuse inquiry said, "We know from court cases and statements made to my team (during the 2008 inquiry) that children in Jersey care homes were 'loaned out' to members of the yachting fraternity and other prominent citizens on the pretence of recreational trips but during which they were savagely abused and often raped."
The States of Jersey Police said that in 2008 an allegation of an indecent assault by Savile at the home in the 1970s had been investigated, but there had been insufficient evidence to proceed.
Heath was also sensationally linked to a children's home in N Ireland. The Kincora Boys' Home was a home for working boys in Belfast that was the scene of a notorious child sex abuse scandal. The scandal first came to public attention on 3rd April 1980, when three members of staff at the home, William McGrath, Raymond Semple and Joseph Mains, were charged with several offences relating to the systematic abuse of children in their care over several years. Mains, the former warden, received a term of six years, Semple, a former assistant warden, five years, and McGrath four years.
There are also links emerging between the abuse in Jersey children's homes and a notorious Islington children's homes paedophile ring. Islington's deputy children's homes superintendent Nicholas Rabet had worked in Jersey in childcare, and he regularly took children from the Islington's council homes on camping trips to the island where Savile was photographed at the Haut de la Garenne children's home. After being exposed by the press Rabet fled Britain to Thailand but was charged there in 2006 with abusing 30 boys. He committed suicide before he could be tried. His accomplice, Neil Hocquart, killed himself in custody in Ely, Cambridgeshire, in 1991, after being found with hundreds of paedophile videos.
When allegations were first made that there was an active paedophile ring within Islington's council homes, council leader, Margaret Hodge, refused to allocate resources for an investigation to take place. In 1990, a senior social worker, Liz Davies, and her manager, David Cofie, told Margaret Hodge, then leader of Islington council, of their suspicions that there was widespread sexual abuse of children in Islington care homes. Ms Hodge instead believed senior officials who assured her that nothing was the matter. In 1992, the London Evening Standard published extensive evidence of the abuse, which Ms Hodge denounced as "a sensationalist piece of gutter journalism".
Below: Margaret Hodge MP - Allows paedophiles to go wild on her watch, mocks victims and approves sex education for 5-year-olds
Ms Hodge wrote privately to the BBC describing Mr. Panton as "extremely disturbed", a remark for which she was later compelled to apologise in the High Court. The first person to categorise Panton as "disturbed" was the paedophile boss of his children's home, Bernie Bain, a man later described by police as "a brutal sexual abuser": Panton was 10 at the time.
In 1995, an independent report found that the council had indeed failed to investigate the allegations properly. Hodge later apologised for failing to ensure that allegations of serious child abuse in council-run homes were sufficiently investigated and for libelling a complainant.
In 2003, Tony Blair appointed Ms Hodge, the wife of a high court judge, to be the first ever Minister for Children and she subsequently supported sex education for 5-year-olds... What a creep.
In April 2014, Education Secretary Michael Gove instigated investigations into 21 children's homes nationally, where new evidence suggested Jimmy Savile might have abused young people, including one in Islington during the period Hodge was leader. This prompted Hodge to issue a further apology stating, "our naivety was shameful". Shameful yet deliberate perhaps - The investigation, unsurprisingly, failed to reach any firm conclusions.
In 2007, Savile was interviewed under caution by police investigating an allegation of indecent assault in the 1970s at the now-closed Duncroft Approved School for Girls near Staines, Surrey, where he was a regular visitor. In October 2009 the Crown Prosecution Service advised there was insufficient evidence to take any further action and no charges were brought.
British Prime Minister Margaret Thatcher often played host to Savile at Chequers (11 consecutive Christmases according to Savile) and her successors, John Major, Tony Blair, and Gordon Brown were all fans of Savile, apparently deaf to the 'open secret' which everybody else knew.
Thatcher's personal secretary Sir John Morrison was (as Edwina Currie wrote in her diaries) a "noted pederast" (a paedophile with an interest in young boys) - The Queen saw fit to knight both Savile and Morrison.
Below: From Prime ministers to the Pope and almost every member of the Royal family - Savile was very well connected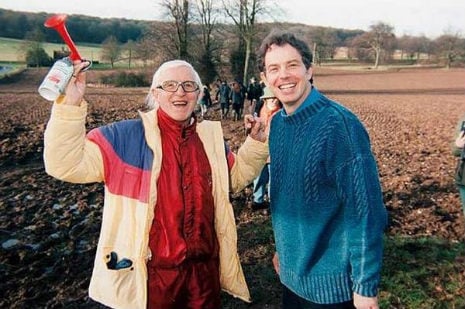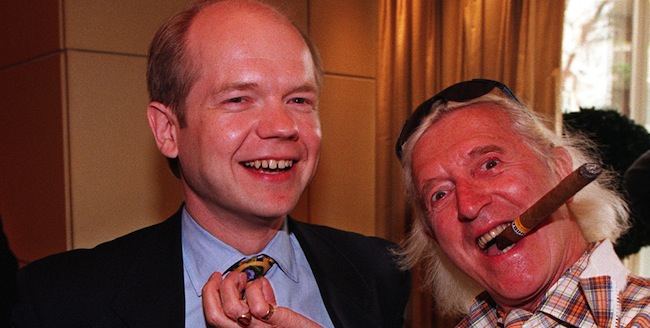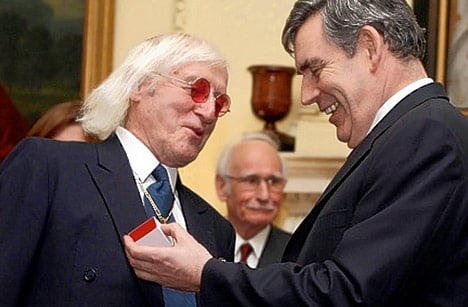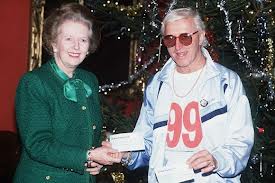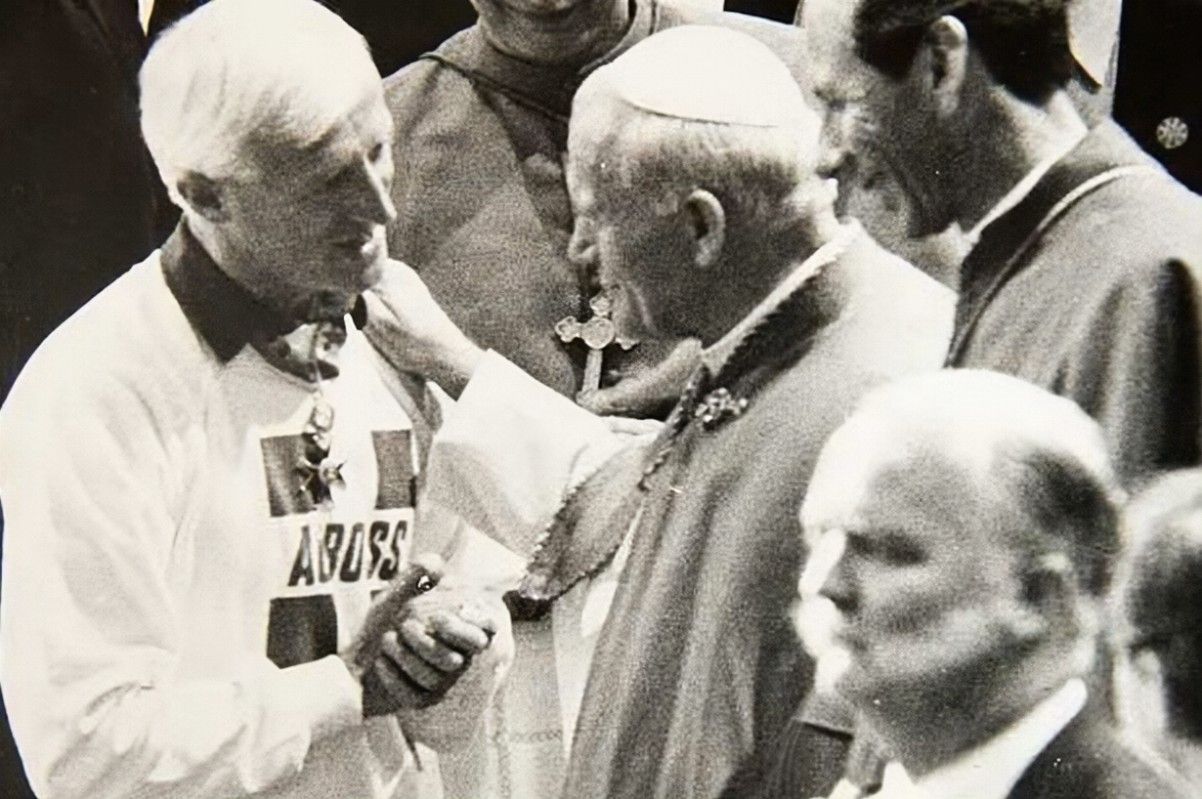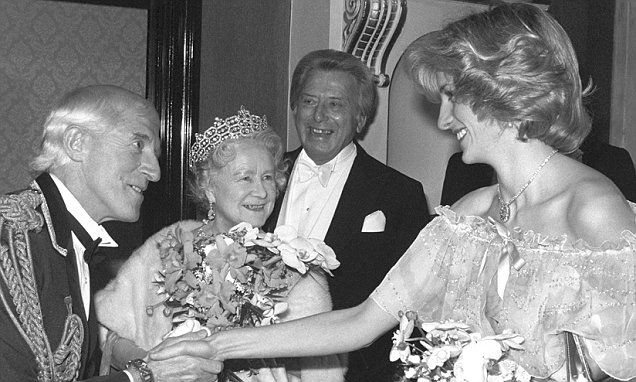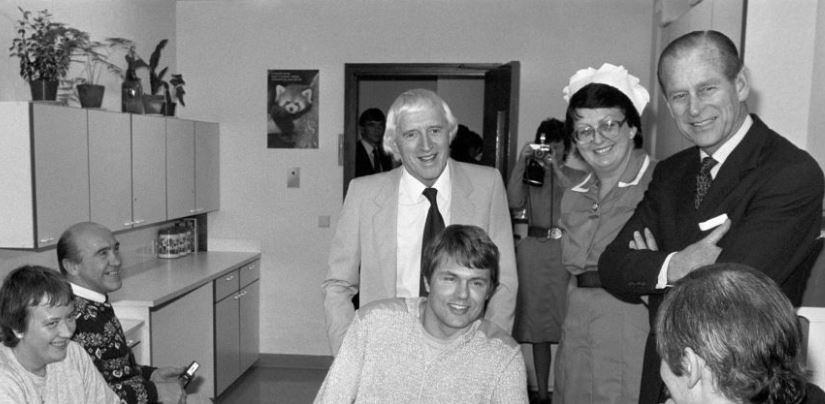 Jimmy Savile, The NHS & The Yorkshire Ripper
When Jimmy Savile Ran Broadmoor
In August 1988, shortly before the publication of a highly critical report into its operating procedures, the entire management board of Broadmoor secure psychiatric hospital was suspended by the Department of Health, which at the time had joint responsibility for its direct management. The running of Broadmoor, the highest-profile facility of its kind in the country and the home to many of Britain's most notorious criminals, was placed in the temporary control of a "taskforce" to be headed up by a somewhat unexpected figure, Jimmy Savile.
To consider that Jimmy Savile, a Disc Jockey and Children's TV presenter, was competent of such a role is nothing more than insanity itself, those making the decision should have been evaluated for their own sanity.
Appointed by Kenneth Clarke to lead the restructuring 'task force' at Broadmoor, Savile, without psychiatric qualifications or medical training of any kind, arranged the transfer of dangerous patients to less secure units, claiming they were cured. The Department of Health said, "It is fair to say Jimmy Savile can take a lot of credit for this."
West London Mental Health NHS Trust, which now runs the hospital, believes Savile's involvement as a volunteer began in the late 1960s or early 70s. Savile had his own office in the grounds of the hospital, where he also had a personal bedroom and his own personal set of keys to the hospital wards. (Source)
It was also at Broadmoor, during one of his many voluntary stints, that Savile became friends with Peter Sutcliffe, the Yorkshire Ripper, or that's how the story goes…
Peter Sutcliffe was convicted for the murder of 13 women between 1975 and 1980. His arrest in 1981 followed the longest, most expensive manhunt in British criminal history. Embarrassingly the police interviewed Sutcliffe at least 9 times during the five-year crime spree before eventually arresting him.
Below: Peter Sutcliffe, The Yorkshire Ripper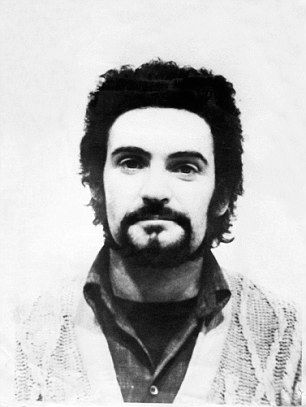 But he wasn't the only suspect, (actually most men in the North of England were suspects in the Ripper case due to the profound effect the media storm created around the murders), but interestingly a former West Yorkshire police detective, John Stainthorpe, said Savile was himself a suspect in the notorious murders that Sutcliffe was later convicted of (source). Another article claims detectives even had a cast of Savile's teeth made to check against marks on victims' bodies (source).
It is no wonder Savile was questioned when you consider the following: the first of Peter Sutcliffe's victims to die was Wilma McCann, murdered on October 30th, 1975, on Prince Phillip Playing Fields in Leeds, Savile's hometown, the day before Savile's Birthday. Irene Richardson and Marcella Claxton were attacked in Roundhay Park which was overlooked by Savile's residence. Vera Millward was killed in the car park of Manchester Royal Infirmary, (where Savile was a 'resident' and 'volunteer'). Josephine Whitaker was murdered at a location named Savile Park Moor in Halifax. Emily Jackson was attacked on Roundhay Road only spitting distance from Savile Road, Back Savile Road, Savile Drive, Savile Place, Back Savile Place and Savile Avenue and of course Roundhay Road leads to Roundhay Park, overlooked by Savile's residence.
Are all these connections purely coincidences, or is there more to Savile's involvement with Sutcliffe? Let me know if you have any information.
Below: Irene Richardson was murdered right outside Saviles residence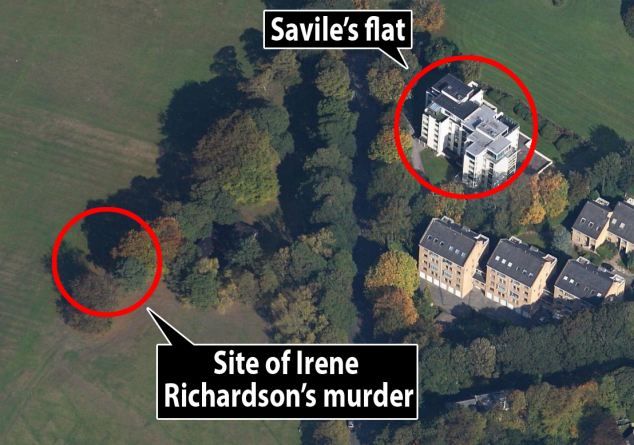 Georgina Martin was just 13 when she first met Savile at a railway station in 1982 and spent 3 years having sexual relations with him. In an interview with the Mirror newspaper in 2015 she said the following:
"I have tried to blot it out of my mind, but I can't. I know more about him than the police know. He was obsessed with death and with the Yorkshire Ripper, Peter Sutcliffe… When we went out in his car he would point out spots where dead bodies had been found and claim the Ripper had not been working alone…"
"He told me he had been questioned by police after the body of a young girl was found near his home covered in bite marks" …
"Jimmy said they had made him hand over a sample bite mark. But he was always bragging about how he was protected and had people who looked after him."
It has been reported that Sutcliffe himself named Savile in investigations prompting the investigation of the BBC presenter, although no charges were ever bought against Savile for these murders or any involvement in them. None the less, Savile continued to regularly visit Sutcliffe while at Broadmoor according to the Ripper himself, who also strongly denies that Savile was the monster that we now know him to have been. But then Savile said of Sutcliffe that he was, "a nice guy with a good nature". Neither of these monsters would ever understand the concept of a 'good nature'.
Below: Sutcliffe stands up for Savile
Savile was a volunteer porter and fundraiser at Stoke Mandeville Hospital between 1965 and 1988 and had his own living quarters there. It cannot be denied that Savile did a great deal of good for the hospital in terms of fundraising, but these favours obviously came with significant benefits for Savile.
According to Dr Sinason, director of the Clinic for Dissociative Studies in London, one of Savile's many victims at Stoke Mandeville recalled being led into a room that was filled with candles on the lowest level of the hospital, somewhere that was not regularly used by staff. Several adults were there, including Jimmy Savile who, like the others, was wearing a robe and a mask. She recognised him because of his distinctive voice and the fact that his blond hair was protruding from the side of the mask. He was not the leader, but he was seen as important because of his fame.
The victim was molested, raped and beaten and heard words that sounded like 'Ave Satanas', a Latin­ised version of 'Hail Satan', being chanted. There was no mention of any other child being there and she cannot remember how long the attack lasted but she was left extremely frightened and shaken.
Dr Sinason told the Scottish Daily express that a second victim approached her in 1993. She said she had been 'lent out' as a supposedly consenting prostituted woman at a party in a London house in 1980. The first part of the evening started off with an orgy but half-way through some of the participants left. Along with other young women, the victim was shepherded to wait in another room before being brought back to find Savile in a master of ceremonies kind of role with a group wearing robes and masks. She too heard Latin chanting and instantly recognised satanic regalia.
Dr Sinason confirms that both these witnesses did speak to police at the time, but no action was taken.
Jimmy Savile was a Knight of Malta. Freemasonry says that the degree of Knight of Malta is "universally associated with the Masonic Knights Templar". It is a Masonic honour and therefore we can conclude that Savile was a high-ranking Freemason. Freemasonry, paedophilia and satanism go hand in hand, where you find one, you often find the other. There were a number of Freemasons present at Savile's funeral.
Below: A lot of Freemasons attended Savile's funeral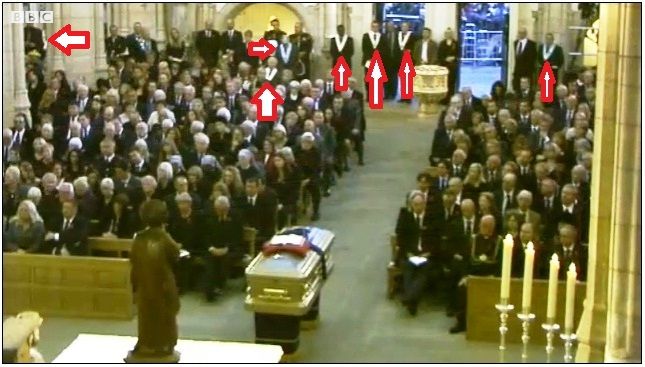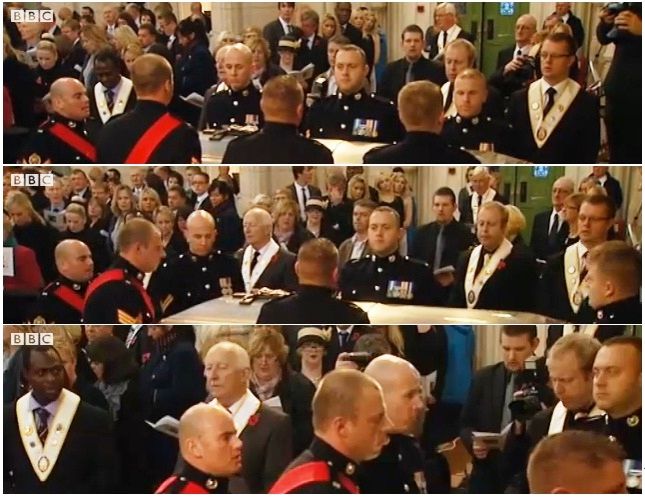 Savile had a long association with the Leeds General Infirmary, which included him volunteering during the 1960s and 70s and carrying out charity work until his death in October 2011. Again, he was granted private access to the wards, given his own set of keys and a room on site, it would be here that Savile would have had the opportunity to explore his obsession for sexual contact with dead bodies as he portered them to the morgue.
Most of the victims currently coming forward allege that Jimmy Savile abused them. But detectives announced mid-October 2012 that they were mounting a full criminal investigation after some of the hundreds of people who have come forward in response to the unfolding scandal made allegations that they were abused by other individuals who are still alive. It is understood that most of these claims of sexual abuse relate to people who were associated with Savile in some way.
Karin Ward was a pupil at Duncroft special needs school in Surrey and claims she saw paedophile Gary Glitter having sex with a 13-year-old while Sir Jimmy abused another girl. She said the Top of The Pops presenter fondled the terrified youngster under her skirt as she sat quivering on his lap, she claimed she was also abused by a third celebrity in the same dressing room when she was just 14. Karin, who also alleged Sir Jimmy molested her in his car, said she felt "disgusted" and "ashamed".
"Now Gary, all he did was to take his computer into PC World to get it repaired. They went into the hard drive, saw all these dodgy pictures and told the police and the police then 'Oh we've got a famous person … Oh my goodness, yeah we'll have them'. But Gary has not sold 'em, has not tried to sell 'em, not tried to show them in public or anything like that. It were for his own gratification. Whether it was right or wrong is up to him as a person. But they didn't do anything wrong but they are demonised."
Pop star Gary Glitter was jailed for possession of indecent images of children in 1999. In 2002 he was permanently deported from Cambodia due to suspected child sexual abuse, and in 2005 he was jailed in Vietnam for sexually assaulting two girls aged 10 and 11 and was deported back to the UK in 2008. I guess Savile would say "a nice guy, with a good nature"...
In the 1960′s, the former Radio 1 DJ Alan 'Fluff' Freeman owned a large corner shop on the Lea Bridge Rd in London. This shop has recently been reported as a place where 'Fluff' held kinky parties, attended by the likes of confirmed bachelor Sir Jimmy Savile, convicted child molester Jonathon King, and Brian Epstein, who was at the time the manager of the Beatles. At these parties, young boys, specially brought over from several children's homes would be plied with drugs and alcohol before being abused. However, these parties were forced to come to an end when Police chiefs got wind that the MP & Ex Liberal Party leader Jeremy Thorpe was attending them along with several other prominent MPs. No arrests were ever made.
In 2012, Sir Roger Jones, a former BBC governor for Wales and chairman of BBC charity Children in Need, disclosed that more than a decade before Savile's death he had banned the "very strange" and "creepy" Savile from involvement in the charity – why did it only stop there?
As we have already seen, Savile's connections go way beyond mere celebrity, they extend to world leaders of international politics and even Royalty.
Savile was awarded the OBE in the New Year's Honours list of 1972. He was awarded a knighthood in the Queen's Birthday Honours list of 1990 for services to charity. In 1990, Pope John Paul II made Savile, a lifelong Roman Catholic, a Knight Commander of the Order of Saint Gregory the Great - the honour is also known as a papal knighthood. Savile was given another Catholic honour: the Cross of Merit in the Sovereign Military Order of Malta - awarded to those who have carried out charitable works or upheld Christian values.
Below: One of many honours presented to Savile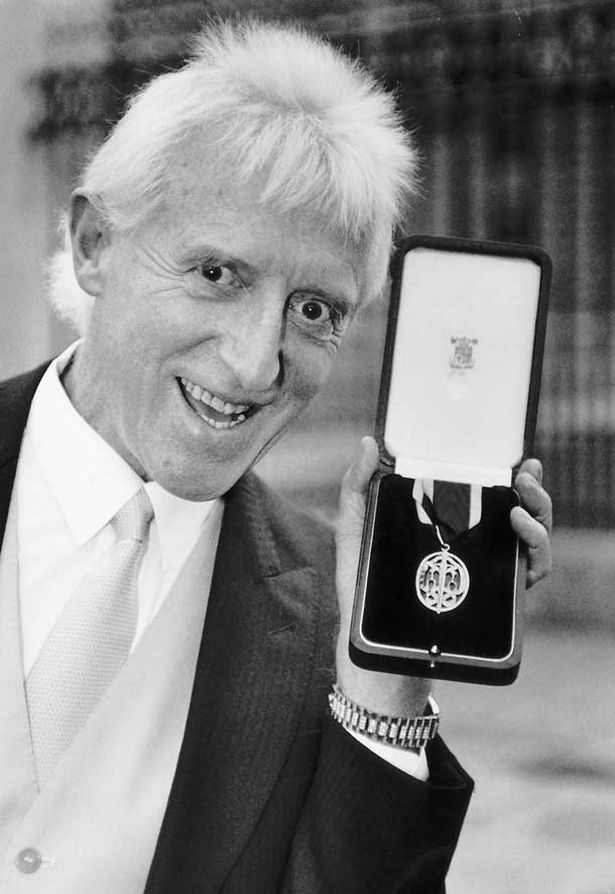 Savile became friendly with Prince Charles in the mid-1980s and got to know Princess Diana at the same time. Diana once described Savile as 'a mentor to Charles'. Indeed, Savile was so close to Prince Charles that he even advised him on the appointment of one of his most senior aides. In an indication of the power and privilege extended to Savile by the royal family, Charles asked Savile for advice before selecting Sir Christopher Airy to be his private secretary in 1990. (Source).
Once again, Savile's extra-ordinary ability to do anything allowed him to become an intermediary between Diana and Charles during their famous split. Savile was also among the guests at Diana's funeral in 1997.
As well as spending time with Savile at his cottage in Glencoe, Prince Charles enlisted Jimmy Savile as a royal party organiser and asked him to invite guests to Kensington Palace on his behalf. (Source).
Below: Prince Andrew and billionaire paedophile Jeffrey Epstein before his fake death - The Royal family really like paedophiles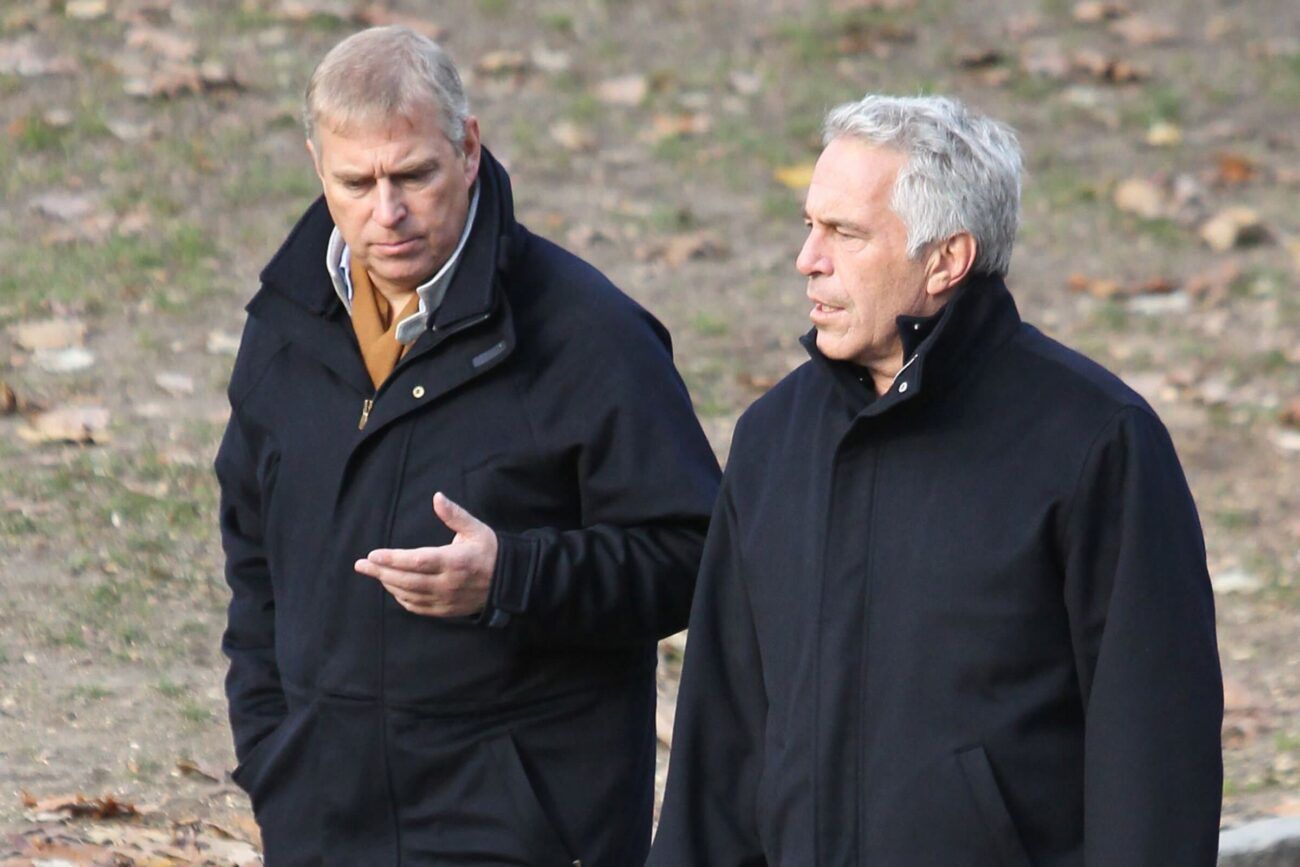 Prince Charles and Prince Andrew, the close friend of the billionaire paedophile Jeffrey Epstein, sent Christmas cards to Savile right up until he died. One card that Prince Charles sent to Savile, later sold at auction, contained the message: "Jimmy, with affectionate greetings from Charles. Give my love to your ladies in Scotland."
For his 80th Birthday Charles sent Savile a box of cigars and a pair of gold cufflinks, with a note that read "Nobody will ever know what you have done for this country Jimmy. This is to go some way in thanking you for that.".
Charles led the tributes after Savile's death in 2011 saying, how "saddened" he was.
The Monarchy have a long tradition of entertaining mass murderers and deviants of all persuasions. Either the Security Services are extremely lax in protecting the Windsor's from potential criminals, or these associates are recruited by Royal Approval, I suspect the latter.
During Louis Theroux's now famous interviews with Savile, when boasting about his friendly connections with the Royals he shows Louis an invitation to a private Royal dinner, when Louis asks, "what do you discuss with them", Savile becomes instantly defensive and says, "that is a no-go area, I'm not a grass".
Just to reiterate, in case you had forgotten, Jimmy Savile was a disc jockey, but apparently, he could turn his hands to absolutely anything, including negotiating peace deals between foreign countries, you might think I'm making stuff up now, but I assure you this can all be verified.
In 1977, Israel's Prime Minister Menachem Begin had a meeting with Egyptian president Anwar Sadat that led to 'peace' between the two countries, and naturally of course it was Jimmy Savile who subsequently received a medal from Israel in 1979, for 'services rendered'. Savile reportedly visited Israel several times in 1975 to advise Israel's President Ephraim Katzir on a matter of security. A Manchester businessman, Benny Sternberg, revealed that "Savile had been approached to explore the possibility of a meeting between Sadat and Begin because of his friendship with the family of the Egyptian president's wife Jehan". Savile described himself as "the only yok with a Yiddish kop".
Savile claimed during an interview with The Guardian newspaper that he told Professor Katzir: "I'm very disappointed because you've all forgotten how to be Jewish and that's why everyone is taking you to the cleaners … You won the Six Day War, you took all that land, you gave it all back, including the only oil well in the area, and now you're paying the Egyptians for the oil you already had."
Savile also maintained that the president invited him to repeat his words at a Cabinet meeting. "They asked my opinion about a couple of things, to which I said, 'Nothing's impossible'. They did exactly what I suggested, and it worked out 100 per cent successful."
Savile's ten-day visit to Israel in 1975, when he met President Ephraim Katzir and Jerusalem mayor Teddy Kollek, was organised by John Levy of the Friends of Israel Educational Trust... It should be no surprise that Savile was 'a close friend of Israel' if you know the truth behind the establishment of Israel. It is Rothschild-land, paedophilia is at their core.
As a relatively young BBC journalist, Louis Theroux spent some time with Jimmy Savile making a film designed to give us some insight into the life of the Jim'll fix it star. Unfortunately, Louis completely failed to even scrape the surface with his documentary, but the ever-cryptic Savile said enough to drop hints all over the place - Louis Theroux was obviously never very good at catching.
When I visited Louis Theroux's website following Savile's death, I read an article posted by Louis reminiscing about the time he had spent with Savile making his production for the BBC. The first excerpt from Louis' article needs to be read while keeping in mind the accusations of Savile's alleged obsession with necrophilia.
Below: Louis 'Cut-me-and-I'll-bleed-BBC' Theroux who utterly failed to make a serious documentary about Savile.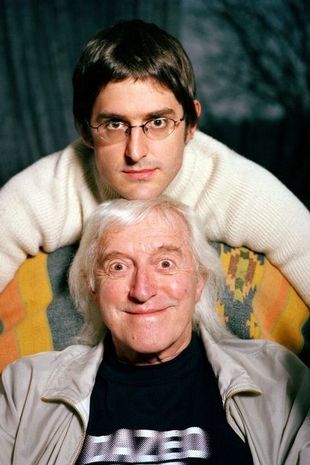 "I actually started making my Jimmy Savile film out of a fascination with the macabre rumours that used to swirl around the man, many of them started by Jimmy himself. One was that he didn't actually like children, despite hosting one of Britain's most famous children's' TV shows. Another, written in his autobiography, that the few days he spent alone with his deceased mother's body during her laying out was the time of his life. That he was in charge of "entertainment" at Broadmoor where he would have tea with Peter Sutcliffe. That he spent his spare time volunteering as a hospital porter at Leeds General Infirmary where he was known for wheeling bodies into the morgue."
Louis says in his documentary "I was struck by his network of friends and helpers he had in each place and their loyalty to him". An interesting statement - and as we have explored Savile did have a long list of friends and 'helpers' who would go to great lengths for him, no doubt this network would be of great service to him in covering up his crimes against children.
Former Radio 1 DJ Paul Gambaccini demanded to know why allegations Savile sexually abused corpses were not investigated. He told BBC Radio 5 Live presenter Nicky Campbell that he was aware of necrophilia accusations surrounding Savile in the 1980s and claimed it was known among BBC staff that the late presenter targeted vulnerable young people.
"The expression I came to associate with Savile's sexual partners was either one used by production assistants or one I made up to summarise their reports... "under-age subnormals". He targeted the institutionalised, the hospitalised – and this was known. Why did Jimmy go to hospitals? That's where the patients were."
In a 1990 interview with Q magazine, Savile admitted he enjoyed being alone with dead people:
"You can look after somebody, be alone with somebody, who has lived a whole lifetime, and I'm just saying goodbye and looking after him. That is a privilege and an honour. Some people get hold of the fact that Jim likes looking after cadavers and say, 'Aha, Jim's a necrophiliac'. I'm not a necrophiliac."
Whatever you were Jimmy, at least you are no more.
In 2015 police forces began investigating claims of historical child sexual abuse involving former PM Sir Edward 'Ted' Heath.
Paedophilia and Satanism are the cement that hold the establishment control structure together in every country