Missing flight MH370 conspiracy
By Liam-michael:Roberts
On 8th March 2014 Malaysian airlines flight 370 (MH370) disappeared from radar less than an hour after take-off. At the time of writing, (22nd March 2014) flight MH370 is still missing.
I published a link to my website on 15th March which suggested that the missing flight had something to do with employees of Freescale semiconductor reported to have been aboard the flight, the infamous Rothschild family and valuable patents on high technology, this article aims to explore that theory further dispelling some of the untruths.
Freescale Semiconductor has confirmed that it had 20 employees on board missing Malaysia Airlines Flight MH370.
Freescale Semiconductor, Inc. is an American company headquartered in Austin, Texas with design, research and development, manufacturing and sales operations in more than 20 countries.
Stories and suspicions have sparked over the ever-mysterious disappearance of flight MH370, but one that looks like it will remain clouded in mystery.
So one theory that's been circulating, among many others, is this;
- 20 Freescale employees were aboard the missing flight – This has been confirmed by Freescale
- On 11 March 2014 (4 days after flight MH370 goes missing) patent 8671381 is approved by the patent office – This is also a provable fact (See the Patent here)
- 4 of the 5 patent holders are freescale semiconductor employees – I cannot confirm that they are employees of Freescale semiconductor but certainly their names are listed on the patent.
- If anything happened to the patent holders then the 'wealth' would be split between the remaining holder/s – Correct
- The four named Patent holders were passengers aboard flight MH370 – So far this remains an unproven claim. The patent holders are not among the names listed on the official Malaysian Airlines plane manifest suggesting this information is false.
- Jacob Rothschild owns Freescale semiconductor through Blackstone – Again this is not entirely correct, Jacob Rothschild is a member of the International Advisory Board of The Blackstone Group who own Freescale. There are connections but the theory has certainly has the creases ironed out by a few bits of false and elaborated information.
It would be useful to make contact with the 4 named patent holders to put this theory totally to bed, but unfortunately I cannot get any information from the internet on these people – has anyone else had any luck with this? If so I'd like to hear from you. Contact ConspiracyTruths.
What does remain strange is the lack of information being released by freescale about these employees and what they were doing on this flight. Not that that in itself is suspicious but considering the type of technology Freescale deals in it is a little coincidental that 20 of their employees should board a flight that supposedly vanished.
Freescale was one of the first semiconductor companies in the world, having started as a division of Motorola in Phoenix, Arizona in 1948.
Focusing on the automotive, consumer, industrial and networking markets with its product portfolio including microprocessors, microcontrollers, digital signal processors, digital signal controllers, sensors, RF power ICs and power management ICs. The company produces and designs embedded hardware, with 17 billion semiconductor chips in use around the world.
Freescale semiconductor also holds an extensive patent portfolio, including approximately 6,100 patent families.
Among other technology Freescale has been directly responsible for; the first radio receiver/transmitter to be widely nicknamed "walkie-talkie"; The Motorola radio transponder that relayed the first words from the moon to Earth in July 1969; The transponder aboard the Apollo 11 lunar module that transmitted telemetry, tracking, voice communications and television signals between Earth and the lunar crew; The first analog mobile phone call; the world's first true 32-bit microprocessor; the world's first working prototype global system for mobile communications (GSM).
From an article published by The Rakyat Post:

"Earlier, sources told The Rakyat Post that at least eight staff from Freescale Semiconductor Malaysia have been identified to be among the passengers of the flight.
However, multiple sources have claimed that there may have been more than a dozen members of staff from the Malaysian office and another two dozen from the China office of the same company on the flight.
Among them is Suhaili Mustafa who is reported to be the niece of Kuching OCPD Asst Comm Roslan Bek Ahmad.
The regional office of the semiconductor company said they have been monitoring the situation but were unable to confirm any details at this point.
Another source said Freescale Malaysia has conducted a meeting on the matter and said that updates would only be given by Freescale United States.
The Malaysian branch will not even reveal the number of their staff members on board MH370."
I personally emailed Freescale to get a direct response from them on the situation. It seemed clear to me that something is being covered up, they are not willing to give away any information such as the employees names…
"Yes, we have 20 employees currently classed as missing, their names, oh no, we can't tell you that, you might find them…"
It strikes me as very strange, I could appreciate the request for respect if the plane had been confirmed as having crashed, but these people are currently not classed as dead, but missing, I think knowing their identities is essential to finding them. But that's just me…
From: Liam Roberts
Date: 2014年3月17日 GMT+81:08:44

To: "[email protected]" <[email protected]>

Subject: Freescale semiconductor employees aboard MH370
Good afternoon,
I have been trying to identify the 20 Freescale semiconductor employees that were aboard missing flight MH370. 
I would appreciate your assistance with this.
Can I please request a list of the names of the Freescale semiconductor employees who were confirmed as being aboard this plane. 


Kind regards,
L Roberts
On 17 Mar 2014, at 01:46, "[email protected]" <[email protected]> wrote:
Mr Roberts,
Please know that out of respect for the privacy of the impacted families during this difficult time, we would not be releasing the names of the employees.
Thank you for your understanding.
Best regards,
Gloria
From: Liam Roberts 

Sent: Monday, March 17, 2014 6:33 PM

To: Shiu Gloria-R42970

Subject: Re: MH370
Dear Gloria,
Many thanks for your response to my previous email and of course I understand the desire to respect the family's privacy.
Please could you confirm that the original manifest released by Malaysia airlines therefore does not name your employees as passengers?
With kind regards,
L Roberts
From: "[email protected]" <[email protected]>
Date: 17 March 2014 15:53:36 GMT
To: Liam Roberts
Subject: RE: MH370
Mr. Roberts,
We can only confirm that 20 of our employees were passengers on Flight MH370. Twelve are from Malaysia and eight are from China. They are from ourKuala Lumpur and Tianjin Final Manufacturing sites and from the Computer Integrated Manufacturing (CIM) organization.
We are focused on our employees and their families right now. Beyond what we've provided in the press release http://media.freescale.com/phoenix.zhtml?c=196520&p=irol-newsArticle&ID=1907348&highlight=
and the above details, there isn't much we can add at this time.
Thanks for reaching out.
Best regards,
Gloria
So clearly not much being given away there, all just the standard response that they have now been trained to give to enquiries.
What do we know about the 20 Freescale Semiconductor employees confirmed to have been aboard flight MH370?
Mitch Haws, vice president, global communications and investor relations at Freescale states in an article published by reuters.com that "The 20 Freescale employees, among 239 people on flight MH370, were mostly engineers and other experts working to make the company's chip facilities in Tianjin, China, and Kuala Lumpur more efficient…
These were people with a lot of experience and technical background and they were very important people, it's definitely a loss for the company."
Gloria Shiu stated in her email to me that they "can only confirm that 20 of our employees were passengers on Flight MH370. Twelve are from Malaysia and eight are from China. They are from our Kuala Lumpur and Tianjin Final Manufacturing sites and from the Computer Integrated Manufacturing (CIM) organization."
What remains unclear, despite the release of a passenger manifest by Malaysia Airlines, is the identity of these employees. The names have not been published anywhere and in emails sent directly to freescale they have denied the opportunity to submit these names under the request of privacy to protect the relatives - that is despite the release of the aforementioned passenger manifest! So obviously, one would assume, that the freescale employees are listed on the manifest… But are they?
The now widely published version of the manifest can be seen here, it lists 227 passengers and 12 crew members, however I have now seen 3 different versions of alleged manifests, and photographs of what is claimed to be the original manifest show names missing or blacked out from the passenger lists.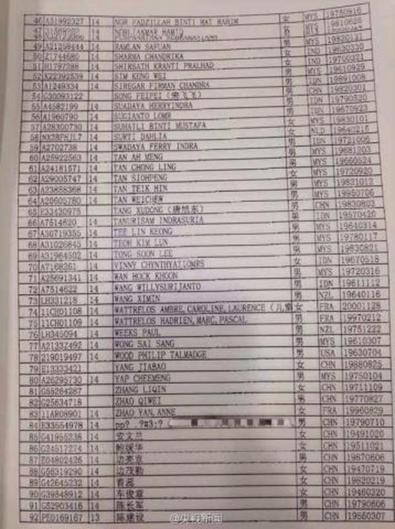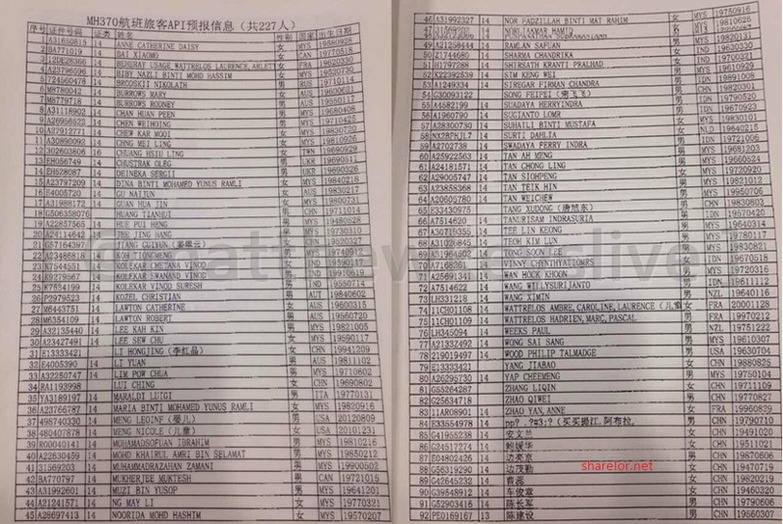 Two versions I found here show effectively the same page published one complete and one with information hidden, both lists crucially are incomplete and show only a maximum of 92 passengers.
One Malaysian media website, The Malaymailonline reported that only "80% of MH370 families had been contacted" following the flights disappearance… It is all rather confusing, adding yet more mystery to this bizarre event. It certainly raises the question, is the official passenger lists that we have been shown genuine? We wouldn't know unless someone investigated all of the people on the manifest. Ah but you say, they did and they have… Yes Authorities after almost a week did turn to investigating the passengers and other crew, besides the pilots who they are still investigating… Hold that thought, the Inspector General of Police (IGP) declared in the media conference of Mar 16 that foreign intelligence agencies have cleared all the passengers from being suspects. Yes that's right it took the authorities a matter of hours to fully investigate and clear all 227 passengers and remaining 10 crew members aboard of having anything to do with it, but they are still investigating the two pilots… If they have spent so long investigating two people, (ie the pilots) how can the other 237 be written off as having nothing to do with it so quickly and absolutely?
It's been reported that up to seven passengers may have been travelling on fake/stolen passports, for sure two were according to most mainstream reports, but even that story gets weird and suspect, the photographs shown by Malaysian police of the two Iranians alleged to be travelling on stolen passports were bizarrely similar in that the bottom half of each 'suspect' was identical!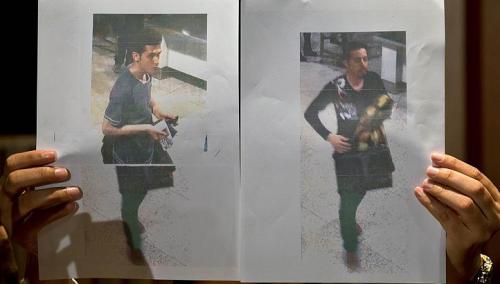 Clearly one, or both of these photos had been doctored, but why?
Besides all the anomalies with the disappearance itself and the conflicting information that has followed from official sources, flight MH370 was shrouded in mystery before its disappearance.
The only thing we can say with any level of certainty is that we do not know who was actually on that flight and we still don't know where it is.